Bonnie & Clyde Prize Table Continues To Grow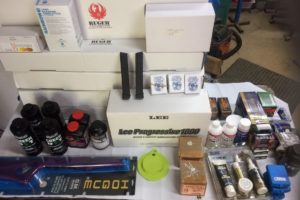 Many thanks to Mr C's Reloading Supplies as he has ponied up even more goodies for the 2nd Annual Bonnie & Clyde Shootout prize table!
Above is the new items Mr C's has given us to add to what he's already donated. Below is what the prize table is looking like now, that's not everything mind, but a good portion of it.
Sign up today, shooting slots are filling up quickly now, remember there's only 100 guns total in this match. Click here and sign up today!