Two Locks In Place – It's Renewal Month at TGC!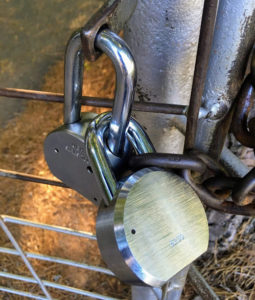 It's back, August that is, which means it's hot in the Ark-La-Tex and it's once again membership renewal month at the Texarkana Gun Club.
If you go to the gun club between now and October 1 this configuration is how the locks should look on the entrance gate. Please leave it the same way when you leave, so that those with new keys and old keys can use the range.
Renewal notices have been mailed out in the last couple of days, so be looking for those in your mailbox.
Renewal night is at the August TGC meeting on Tuesday, August 28 at the KC Hall on Waterall St. Doors will open at 5:30 PM that night so we can process as many renewals as quickly as we can and still get a meeting in.
Please bring:
Your old key

Proof of current NRA membership

Money/check for renewal
Go to the Contact Page for map and directions to the Knights of Columbus Hall on Waterall St.
If you have any questions about membership please contact Ron Hoehn at rjhoehn60@gmail.com.